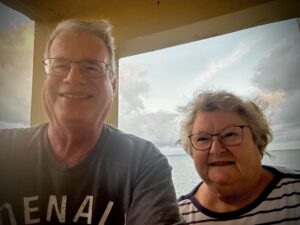 A New Year's Message from Pastor Susan

Greetings to you from my homeplace...the incredible Florida Keys! Eric and I arrived safely yesterday. It's a sunny 83 degrees today and we seem to be past the recent frigid temperatures that gripped most of the US this past week and had iguanas lulled into a frozen stupor and falling out of palm trees here.

This is my fifth January in the Sunshine State. When I retired in 2017, I made a promise to myself to return once a year for a time to reconnect with the part of the world that's solidly in my DNA. To do what I didn't always have time to do during the forty years I served in full-time ministry: to stay connected to my roots and enjoy time with precious family and friends who still reside here. To spend time in the places etched so vividly in the memories of my childhood and youth. Whether I am kayaking through the mangroves at John Pennekamp State Park, marveling at mile after mile of scenic beauty along US 1 on the drive to Key West, wandering the paths of Fairchild Gardens in Miami, enjoying laughter and local cuisine with my cousins, taking the boat to Biscayne National Park for a picnic lunch, or fussing in traffic at the other crazy Miami drivers just like me, I am truly back in my element. This place IS my "Happy Place."

While I am here, my Miami cousins, Sharon and Diane live about an hour from here in South Miami and we're in and out of each other's places during the week. They are the absolute best in keeping me up to date on new things to see in Miami or in taking in the latest hit movie. I am looking forward to having my dear friend, Vilma Martinez from Tegucigalpa, Honduras, visit with me during the week of January 13- 20. During the fourteen years I served St. James UMC in Newport, we worked together for a wonderful mission to at-risk children and senior adults called the Ambos Foundation in Sabanagrande, Honduras, and it has been about ten years since we have seen each other. Cousins Sally and Cambria Stephens from Raleigh and my bestie, Linda Strickland from Fayetteville will arrive on January 19. This time is always a treat as Sally grew up in Miami and enjoys going to old "haunts" with me. Bestie Linda Strickland will be here to stay after the cousins leave and will drive back with me to NC. We'll take the long way home through Crystal River to see dear family friend, Phyllis Colquitt, who is 98 years young and a precious connection to our many years at Allapattah UMC in Miami. I am grateful to you, Sharon Church, for understanding how important this time is for me
each year in allowing me the month away from the pulpit and include special thanks for Jeanne Murray, our Certified Lay Speaker, for filling the pulpit and keeping things running while I'm away. Her help during this month and throughout the year, is a blessing to me.

The time away will not be all fun and play. I have set aside the week of January 6 - 13, after Eric returns to NC and before family and friends begin arriving, to "be still and listen" as I seek to put together a ministry plan to carry us through this coming year. I believe this year will be pivotal in the life of Sharon Church as we embark on our Connect Church relationship with the N.C. Rural Center and begin working with our coach toward developing ministry to make a difference in our part of Lower Currituck County. We will be called upon to think outside of the box like never before in terms of discipleship ministries to renew and challenge us and for reaching out in unconventional ways to grow our church in numbers and spirit through our evangelism. This is my goal during this time of discernment.

I've always liked the saying, "People who are crazy enough to think they can change the world are the ones who do." Maybe that means this new year is a time for all of us to get a little crazy (as in bold, daring, dreaming big).
I can't wait to see what a creatively crazy 2023 might look like at Sharon Church and who might come to know Jesus in a fresh, new way because we did?

Have a great week and know that wherever in the world I may be, you are always close to my heart in my prayers for you.

Love, Pastor Susan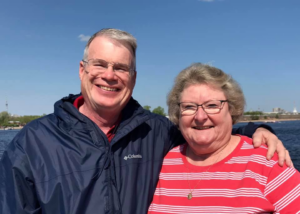 Hello Sharon Church Family, my name is Susan Lindblade and I am your newly appointed Interim Pastor. My appointment is rather unique in that it will be my privilege to serve your congregation twice as Pastor in Charge, first from 1983 - 1986 and now. I remember those days 38 years ago at Sharon with great affection and consider you to be the congregation who taught me how to be a good pastor. During my tenure, we built your Methodist parsonage in Aydlett and I have always been astounded in the way this congregation came together in a common cause to build this home, which was a final hurdle in establishing your place as a station church.
My husband, Eric, is also a retired United Methodist pastor. We have been married 42 years and have one son, Eric A. Lindblade, who was born a few months prior to my appointment at Sharon. Thirty-eight years later, he is now a Civil War historian, author, Co-host of The Battle of Gettysburg Podcast, ranked in the Top 100 History podcasts in the US with a following of listeners in over 70 nations around the world, and Federal Licensed Battlefield Guide at the Gettysburg National Military Park. He resides in Gettysburg with his faithful canine sidekick, Harper, and felines named for the Parks and Recreation TV show characters, Duke Silver and April Ludgate. On Valentine's Day, he became engaged to Renee Steinberg, who is a branch manager for Adams County National Bank and lives in Frederick, Maryland.
I worked for four decades as a United Methodist pastor at First Church: Elizabeth City, Sharon, Hamlet, First Church: Rockingham, St. Matthew's, Fayetteville, St. James, Newport, and North Raleigh UMC. All that time, with the exception of 3 years I took when I was on Leave of Absence to be at home with Eric A., I was in the faith and people business. When we retired in 2017 from North Raleigh UMC, we left the fourth largest church in this conference, 2200 members, 4 worship services, long hours, too frequent meetings, a constant workload, demands and expectations. So, it was refreshing to be able to enjoy home, travel, each other, and our family. It wasn't long before Eric was called to serve two small churches in Goldsboro for 3 years. I was happy for him, but I wasn't ready to do it myself. I would rise every morning as I always had, but to do what? At the end of two years, I decided to work part time as a Dealer Trade Driver for the Capital Automotive Group, Chevy and Ford, in Raleigh. Fun work, delightful people to work, but the something vital that was missing was a sense of purpose. My hyperactive life of four decades was all too leisurely. There are only so many times you can clean your closets, folks!!!!
You know the Farmers Insurance commercial when JK Simmons says in deadpan fashion, "We know a thing or two because we've seen a thing or two." Well, this entered my mind when your District Superintendent, David Blackman asked if I would be willing to help Sharon Church out on an interim basis. It occurred to me that I had retired from one job, but I still carry everything I learned in those four decades, every experience, every insight, and every ounce of wisdom. And all that equips me with an opportunity to be retired for that which is yet to come. And for the first time in a long time, I feel like the old Susan is back!!!
Sharon Church Family, Eric and I look forward to moving to your community on November 1st to begin this Interim ministry with you. Like the old Maxine Nightingale song of the 80's, "I'm going right back to where I started from." God bless you and I look forward to getting to know this congregation again and to seeing how God will work through all of us to bring his Kingdom into closer view!! See you soon!!